Transparent refund policy.
Age Limit – 85 years. (Travelers up to 65 years of age are eligible without additional premium).
Direct settlement of medical claims abroad.
Loss of baggage & passport, Flight delay & personal liability cover.
Free 24 hour medico-legal & language assistance
Frequently Asked Questions (FAQs)
People travel around the world for pleasure, study purposes and for exploring the world. Everyone wants his/her trip perfect and memorable. Uncertainty is everywhere, during travel you may suffer medical emergency and unexpected events like loss of passport, medical expenses and hospitalization abroad that disturb your trip financially. However if you have our travel insurance policy then you need not to worry, you will be compensated according to the policy terms and conditions.
Travel insurance is compulsory for all Schengen countries and countries like Turkey and Ukraine. Travel insurance is a basic requirement for the application of Schengen visa. Travel insurance is also beneficial for individual or family who travel abroad.
Travel Insurance Cost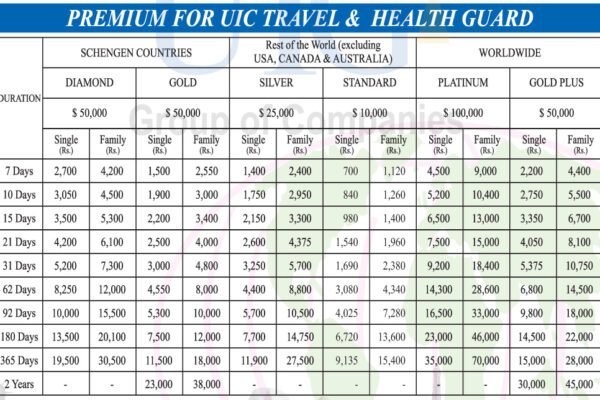 Have a Question?
Call us:  (0321)84-84-087
Travel Insurance online with Medical Cover, Trip Delay, Interruptions. International Travel Insurance covers risks including medical expenses, trip cancellation buy Online and  Online Portal Verify  
We believe and strive for hassle free quality services to our customers. We have made arrangements with M/s. MAPFRE ASISTENCIA, for capacity assistance and direct settlement of medical claims abroad.Should you require any assistance in Pakistan, you can reach us directly or on our office through phone, email or fax.
Contact details :MAPFRE ASISTENCIA
For worldwide contact
Tel: (Ireland): +(353) 91 560621 (24 hours)