Pakistan Festivals: List of Famous cultural Festival in Pakistan
Pakistan Festival List of 10 Unique and Attracted Festival in Pakistan
Experience the vibrant tapestry of culture and tradition with Festivals in Pakistan. Immerse yourself in a kaleidoscope of colors, flavors, and celebrations that will transport you to a world filled with joy and wonder. From the exuberant Cultural, Traditional ,Art, Music ,Seasonal and Religious . our diverse range of festivals offers something for everyone. Discover the richness of Pakistani heritage through lively music, breathtaking dances, and mouthwatering cuisine. Join us in celebrating the vibrant spirit of Pakistan's festivals and create memories that will last a lifetime. some main festivals of Pakistan
| World Famous Festivals in Pakistan | Dates/Every Year | Area of Pakistan |
| --- | --- | --- |
| Chilam Joshi Festival | 13 May – 16 May | Chitral KPK |
| Uchal Festival | 20 Aug – 22 Aug | Chitral KPK |
| Shandur Polo Festival | 7 July-9 July | Gilgit Baltistan |
| Spring Blossom Festivals | 15 Mar-15 April | Hunza-Lahore |
| Ski Sport Festival | 5 Jan-15 Jan | Northern area of Pakistan |
| Jeep Rally Festival | 15 Feb-18 Feb | Bhahawalpur Punjab |
Types of Pakistan Festivals
Cultural Festival in Pakistan
Play Activities Festival in Pakistan 
Religious Festival in Pakistan
Seasonal Festival in Pakistan 
Art and Music Festival 
1 :Kalash Valley Festivals
 Kalash Valley is located in the Chitral District of Khayber Pakhtunkhwa, Pakistan. Kalash is surrounded by the Hindu Kush mountain range.Chitral area is home to a small yet distinctive ethnic minority known as the Kalash people.who have a unique culture, tradition, language and follow a form of ancient Hinduism. As such, the Kalash Valleys are a source of attraction for International tourists. People of Kalash celebrate their festivals three times a year.
Kalash Festival Chitral Kpk Pakistan
Chilam Joshi festival 
Spring festival is also know as the Chilam Joshi festival. People of Kalash celebrate four days across all Kalash valleys.  The festival reflects their unique cultural richness, the harmony in their society and message of peace to the world.. During this festival, Kalashi  men and women also chose their life patterns.
  Uchal festival 
People of Kalash celebrate the arrival of summer in their own way. Summer festival is very popular among the Kalasha people. In recent years, this festival has also gained popularity all round the world. People from different part of Pakistan and international tourist attend the summer festival in large numbers.
Choimus Festival (15 Dec – 22 Dec)
Kalash Winter festival is also called "Choimus" in the local language. This annually observed event symbolises and forecasts prosperity of the village and its people in the coming year. During the festival People go out to seek foxes which is considered as a good omens. Torch lit processions arrives from nearby villages at the main traditional dancing place called a "Charsue. See Kalash Valley Festival Tours
2: Spring  Bl0ssom Festival (Jashan-e-Baharan) March-April
Lahore  skies are adorned with various kites as spring approaches. To celebrate the arrival of spring, the entire community participates in kite-flying competitions. The celebration is also known as "Jashn-e-Baharan" because of this association. Lahore, a vibrant city, known for its festivals, is the place to be during this one
Jashan E Baharan Lahore, Spring Festival Pakistan

Northern area pakistan Gilgit Baltistan Spring starting from mid-March ending in April. The Northern Areas especially Hunza valley attracts thousands of tourists from around the world to witness the mesmerizing view of Hunza valley in spring blossom season.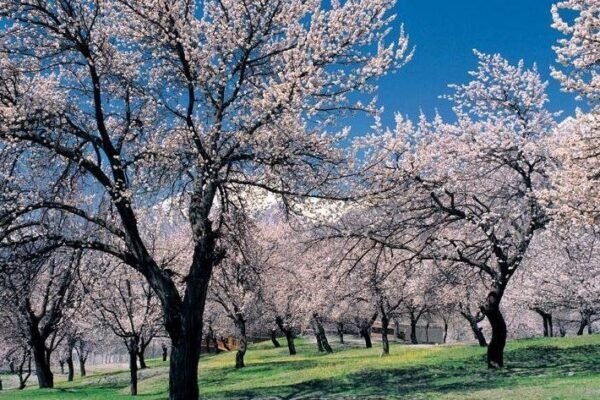 3:A Folk Festival called Lok Mela
The annual National Folk Festival (Lok Mela), which takes place in October each year, is Pakistan's most important cultural event. Twenty countries have sent their artists and entertainers to participate in the festival during the previous two decades. Folk Festival held at Islamabad and Lahore Folk Music, songs, music contests, folk dances, craftsmen at  work, exhibition and sale of handicrafts. The festival presents a unique opportunity to watch the culture and craft of the whole country at one place
4: Shandur Polo Festival 
SHANDUR: Known as a 'Games of Kings', the annual internationally famed Shandur polo festival is a unique historical sports played in the world highest polo ground between Chitral and Gilgit Baltistan.The festival attracts international visitors every year, especially polo-enthusiasts .The annual Shandur polo festival includes dance and music performances, trout fishing, mountaineering, trekking, and of course, horse riding. A polo match at the highest polo ground in the world surrounded by crystal clear lakes, snow-covered mountains, alpine flowers.Shandur festival is held, Dates from the 7th to the 9th of July, every year at Shandur Pass in Chitral.
5 :Cholistan Desert Jeep Rally Festival( February)
It is the biggest motor sports event in Pakistan. The Cholistan Desert Jeep Rally is an annual off-road event that takes place in the Cholistan Desert in Bahawalpur Punjab ,Pakistan. It is a highly anticipated event that attracts hundreds of competitors from around the world. Whether you are a seasoned off-roader or simply a fan of adventure and excitement, the Cholistan Jeep Rally is a must-see event that promises to deliver a once-in-a-lifetime experience.
6: Ski, Snowboarding Sports Festivals in Pakistan
Malamjabba Ski Resort: The snow-capped valleys of northern Pakistan gather thousands of skiers, snowboarders, and other winter sports enthusiasts to celebrate winter games and enjoy the snow. Sports events attract domestic and foreign athletes.
Naltar & Hunza Valley in Gilgit The winter sports festival takes place at the PAF ski resort in Naltar at 10,000 feet (3,000 m), surrounded by snow-capped mountains, and includes skiing, ice hockey, and figure skating competitions. The Pakistan Winter Sports Federation and the Pakistan Air Force jointly organize the five-day event.
7 :National Horse and Cattle show:
One of the most famous annual festivals. the National Horse and Cattle Show are also held in Spring in the Fortress Stadium Lahore. During the week-long activities, there is a display of the finest livestock, horse and camel dances, tent pegging colorful folk dances from all regions of Pakistan, mass-band displays and tattoo shows in the evening.
8 :Eid-ul-Fitr:
This is the biggest Muslim festival celebrated all over Pakistan.  It is celebrated after one month of fasting during the month of Ramadan.  Celebrated on the 1st of Shawwal, the 10th month of Islamic Calendar, The Eid day starts with the special Eid prayers. People exchange gifts and sweet with each other and alms to the poor and the needy.
9 Eid-ul-Azha:
This is also another massive religious festival commemorating the great sacrifice offered by Prophet Ibrahim. It is celebrated on the 10th of Zilhaj, the 12th month in the Islamic Calendar. Collective prayers are offered after sunset and the sacrifice of goats, sheep, cows or camels is made and the meat is distributed among relatives, friends and poor
10 Birth Anniversary of Guru Nanak (Jayanti):
On this day Guru Nanak was born in Nanakana Sahib, now situated in Pakistan. Every year Sikhs celebrate this day with large-scale gatherings. Candles, divas, and lights are lit in Gurdwaras, in the honor of Guru along with fireworks. The birthday celebration usually lasts three days. Generally two days before the birthday, Akhand Path (forty-eight-hour non-stop reading of Guru Granth Sahib) is held in the Gurdwara. One day before the birthday, a procession is organized which is led by the Panj Pyares (Five Beloved Ones) and the Palki (Palanquin) of Sri Guru Granth Sahib and followed by teams of Ragis singing hymns, brass bands playing different tunes and devotees singing the chorus.
Conclusion of Pakistan Festivals 
Pakistan is a country rich in culture and traditions. The country's cultural festivals are a reflection of its diverse heritage and history. From the colorful Basant festival to the traditional Shandur Polo Festival, Pakistan offers a wide range of cultural festivities that attract visitors from all over the world. These festivals are an excellent opportunity for tourists to experience the rich culture and traditions of Pakistan: See list best hotels in Pakistan