6 Days Honeymoon Turkey Tour
06 DAYS 05 NIGHTS ISTANBUL & CAPPADOCIA
Day 1 - Istanbul - Arrival Day
Meet at IST/SAW airport & transfer to your hotel. You will be given your room key and the rest of the day is yours to explore Istanbul. Overnight in Istanbul.

Day 2 - Istanbul City Tour
(Breakfast & Lunch included)
Full Day Ottoman & Byzantium Relics Tour With Lunch: (APPROX. 08:00-17:00)
Guests will be picked up around 8:00am, and brought to the Sultanahmet district, the oldest, most historic part of the city. The first stop of the day will be the Hagia Sophia, as our tour guide explains the significance of this massive building that was once a Christian church, then a mosque, and now a museum. Afterward, we will pass the Hippodrome of Constantinople, where we will see the site?s impressive obelisk, before reaching the Blue Mosque. We should be sure to take pictures of both the interior and exterior of this impressive building. Next, we will continue to the Grand Bazaar, a massive, bustling complex to find clothing, decorative furnishings, food, and more. On the way to the bazaar, we will see other historical monuments, like the Tomb of Sultan Ahmet I, the Firuz Aga Mosque, and the exterior of the Tomb of Mehmed II. After our visit to the Grand Bazaar, we will make a brief stop for lunch. In the afternoon, we will visit Topkapi Palace, the primary residence of the Ottoman sultans for nearly 400 years. Afterward, we will visit the Little Hagia Sophia, the final stop on the tour before guests are returned to their hotels.
Please Note: St. Sophia Museum is closed on Mondays, Topkapi Palace is closed on Tuesdays and The Grand Bazaar is closed on Sundays
Day 3 – Full Day Bosphorus Cruise Tour
(Breakfast & Lunch included)
Full Day Bosphorus Cruise & Two Continents Tour With Lunch: (APPROX. 08:00-17:00)
Guests will be picked up at their hotel. We will first drive toward the Golden Horn, the waterway that feeds into the Bosphorus Strait and the Sea of Marmara. Our first stop will be the Spice Bazaar (also known as the Egyptian Bazaar). After this, we will embark on a boat tour of the Bosphorus, following the European shore until we reach the second bridge, where we will double-back along the Asian shore. Once we have returned to land, we will eat lunch at a local restaurant. Afterward, we will cross the strait to visit Camlica Hill for an unforgettable view of the city, where we will spend some free time. Guests will then be returned to their hotel around 5:00pm.
Note: The Spice Bazaar is closed on Sunday, and will be replaced with the Pierre Loti Cafe.
Day 4 – Flight to Cappadocia
(Breakfast & Dinner included)
After breakfast, free tıme untıl you will be transferred to airport to catch flight to Cappadocia. Arrive & transfer to hotel.
Day 5 – South Cappadocia Tour
(Breakfast, Lunch and Dinner included)
Full Day South Cappadocia Tour with Lunch (APPROX. 09:30 – 16:00 )
Today will be another mystical day, we will start with a visit and walk in the Red Valley and discover rock-cut churches and hike 5 km through the Valley of Gulludere. Then keep going on with a visit to Cavusin village. Ancient Cavusin was already abandoned several about 11th Century. Lunch will be selection of Turkish Cuisine. In the afternoon drive to the Pigeon Valley for panoramic view, Underground City, dated back to the Hittites than used by the early Christians. Under Ground city specially carved to be used during the war time to save their lives as well as early Christians hide themselves from the Roman pressure, you can still see stables kitchen living room bedroom and more. After tour, you will be transferred back to your hotel.
Day 6 – Cappadocia to Istanbul to Home
(Breakfast included)
After breakfast you will have free time until we depart to airport for our domestic flight to Istanbul and then switch to international terminal to catch home-bound flight. We hope your tour was a memorable one and we would like to see you in the future in one of our tours again. Have a nice trip back home and thanks for choosing us.
06 DAYS ISTANBUL + CAPPADOCIA QUICKIE TOUR INCLUDES:
Arrival airport transfer from Istanbul NEW airport
Domestic flight ticket from Istanbul to Cappadocia
Domestic flight tickets from Cappadocia to Istanbul
3 nights' hotel in Istanbul
2 nights' hotel in Cappadocia
5 open buffet breakfasts
2 local dinners
3 local lunches during the tours
Full Day Istanbul City tour (SIC)
Full Day Bosphorus Cruise Tour (SIC)
Full Day South Cappadocia Tour (SIC)
All entrance fees mentioned in the itinerary
Transportation in a fully air - conditioned, non - smoking coach
Professional English - speaking tour guides
Return airport transfer in all cities (PRIVATE)
TOUR NOT INCLUDE:
International flights
Insurance: All types
Turkey entry visa
Items of a personal nature such as alcoholic drinks, cold drinks, laundry
Any others expenses which are not mentioned at the included section
PACKAGE RATES : (01 HOUR HOT AIR BALLOON RIDE: 300 EUR PER PERSON)
Date

City

Hotels-01

Hotels-02

Hotels-03

Note

01-04 Days

Istanbul

3* Montagna Hera Hotel or similar

4* Ramada Grand Bazaar Hotel or similar

5* Barcelo Istanbul Hotel or similar

BB

04-06 Days

Cappadocia

4* Tourist Hotel or similar

5* Suhan Hotel
or similar

5* Ramada Cappadocia Hotel or similar

HALF BOARD

1-3 ADULTS

Per Person / DBL

489 Eur

540 Eur

585 Eur

 
For More detail  email  contact us  or  book now  call at 03218484087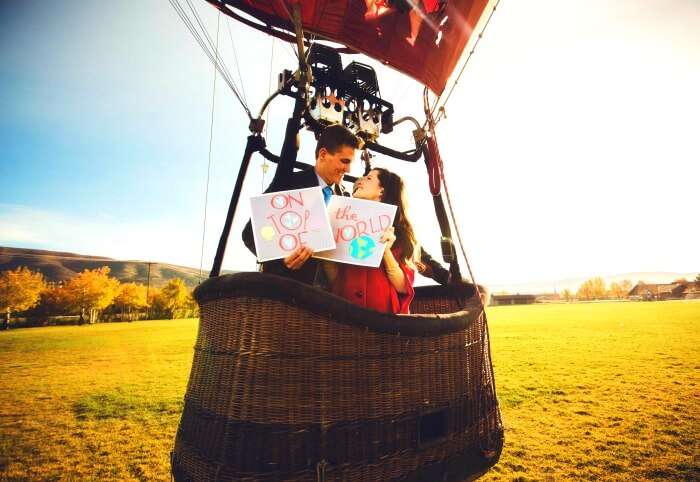 Heading to Turkey for a honeymoon? Turquoise blue waters, colorful bazaars, remarkable historic sites, and stunning landscapes – Turkey has it all. The country provides an amazing mix of culture and natural beauty to give you the honeymoon you have been looking for. Turkey can be the ideal backdrop for your budding married life to bloom. Look below for the best honeymoon destinations in Turkey for an amazing time with your partner.
10 Best Honeymoon Destinations In Turkey
Turkey is a great destination for an off-beat honeymoon. If you are a couple who like to do things differently, then Turkey is the most suitable place for you to kick-start your married life. Here is a list of 10 most unexplored honeymoon destinations in Turkey, waiting for you to be unwrapped.
Istanbul – The imperial city
Pamukkale – The gorgeous cotton castle
Antalya – The land of golden sands
Oludeniz And Fethiye – The treasure natural beauty
Kusadasi – A busy town
Marmaris – The nightlife hotspot
Bodrum – The amazing ancient city
Cappadocia – The land of beautiful horses
Cesme – A relaxed resort town
Hierapolis – The natural-spa city
1. Istanbul – The Imperial City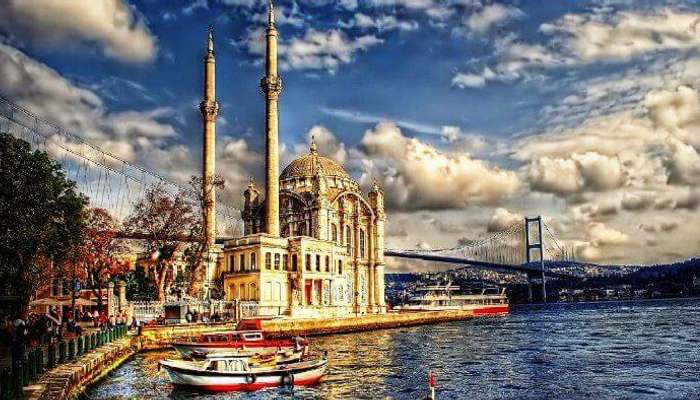 This is one of the most beautiful places to visit in Turkey for honeymoon A place where east meets west, the city of Istanbul is a dizzying combination of beautiful architecture, natural beauty, extraordinary cultural experiences, vibrant nightlife, and scrumptious food. Get ready for memories for a lifetime as you head to this beautiful location for your romantic honeymoon in Turkey.
Why? East meets West – Cultural during the day and parties in the night!
Best Time To Visit: September and November
Best Honeymoon Experiences:
Take the Bosphorus cruise to see the whole city including the European and Asian shores.
Go bargain hunting at the Grand Bazaar, one of the largest covered markets in the world.
Be dazzled by a tour of the beautiful Blue Mosque, Süleymaniye Mosque and Hagia Sophia.
Visit the charming villages of Bebek and Ortaköy known for their trendy nightlife.
Catch sunset on the Galata Bridge, backed by lively cafes, bars and restaurants.
Immerse yourself in history and warm water at the world famous hamams (Turkish baths
---
2. Pamukkale – The Gorgeous Cotton Castle
Looking for top honeymoon destinations in Turkey? One of the country's most famous landmarks, Pamukkale is a marvelously surreal natural wonder known not only for the enchanting beauty of its unique geological formations but also for its historical remains. While planning a honeymoon in Turkey, do not miss out on this gorgeous location!
Why? Surreal Natural Wonder
Best Time To Visit: April or October
Best Honeymoon Experiences:
Take a dip in the Travertines, the dazzling white calcite cliff formed by the area's hot springs.
Go back in time at the ruins of the city of Hierapolis including the spectacular Hierapolis theatre.
Visit the photogenic Temple of Aphrodite, Hieropolis Museum and Laodikeia.
Spend a day at Pamukkale's Antique Pool to soothe yourself in mineral-rich hot spring water. 
Get enchanted by the ancient Pamukkale Castle.
Spend a day exploring the nearby towns of Denizli and Sarayköy.
Suggested Read: Islands In Turkey 2019: 6 Spectacular Islands In The Europe Of Asia
3. Antalya – The Land Of Golden Sands
It is the best place to visit in Turkey for couples. A combination of fantastic beaches, historical ruins and natural beauty, the city of Antalya is a perfect spot on the Turkish Riviera to spend your honeymoon. This is believed to be one of the most awesome romantic destinations in Turkey.
Why? A honeymoon in the historical ruins of Turkey
Best Time To Visit: April or October
Best Honeymoon Experiences:
Visit the maze like town of Kaleiçi which includes a sprawling covered bazaar, the 18th-century mosque Tekeli Mehmet Paşa Camii and the graceful minaret of Kesik Minare.
Spend a day exploring Antalya's old harbour, a picturesque collection of boutiques, pretty cafés, bazaars and yachts.
Sunbathe at the beautiful Lara beach and visit the twin coastal villages of Olympus and Cirali.
Travel up to Mount Tahtali in a cable car to marvel at amazing panoramic views of the coastline and Taurus Mountains.
Visit the ruins of Phaselis including the theatre, temples, Hadrian's Arch Gate and its gorgeous beache
4. Oludeniz And Fethiye – The Treasure Natural Beauty
Commonly known as the Turquoise Coast, Oludeniz and Fethiye are blessed with crystal clear waters, pine-clad valleys and mountains for an exotic honeymoon in Turkey amidst breathtaking natural beauty. This place gives you a chance to explore the best island in Turkey for honeymoon.
Why? For the crystal clear waters and ultimate privacy amidst nature
Best Time To Visit: April and June or September and October
Best Honeymoon Experiences:
Paraglide from Babadag Mountain to see Fethiye and the famous Blue Lagoon at Oludeniz.
Sunbathe at the idyllic pine-fringed Oludeniz Lagoon and dive in the clear turquoise waters of the Mediterranean.
Explore underwater caves and sunken ruins in the crystalline waters of the Gulf of Fethiye.
Take a day trip to the nearby Greek island of Rhodes.
Explore the tiny Turkish villages and sand-swept Roman ruins at Patara on a horse riding trip.
Do a day cruise around the scenic Gulf of Fethiye, with stops at Butterfly Valley and Patara Beach.
5. Kusadasi – A Busy Town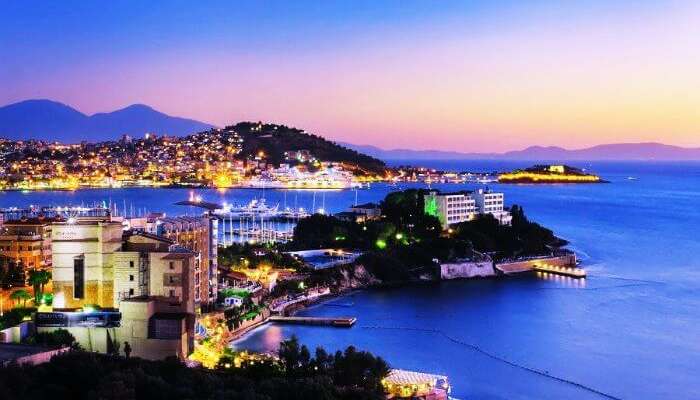 Turkey's busiest cruise port, Kusadasi is a cosmopolitan resort town, offering great beaches, excellent shopping and fun nightlife to its visitors.
Why? A honeymoon on private yachts
Best Time To Visit: May and October
Best Honeymoon Experiences:
Visit the impressive ruins of Ephesus, the second largest city of the Roman Empire.
Taste the fruit wines and homemade olive oil in the village of Sirince.
Spend a relaxed beachy day at the Pamuk, Long Beach, Silver Sands Beach or Love Beach.
Explore Pigeon Island near the harbour.
Take a trip to the beautiful Kalamaki National Park to see the Anatolian cheetah and be mesmerized by the view of the coastline.
6. Marmaris – The Nightlife Hotspot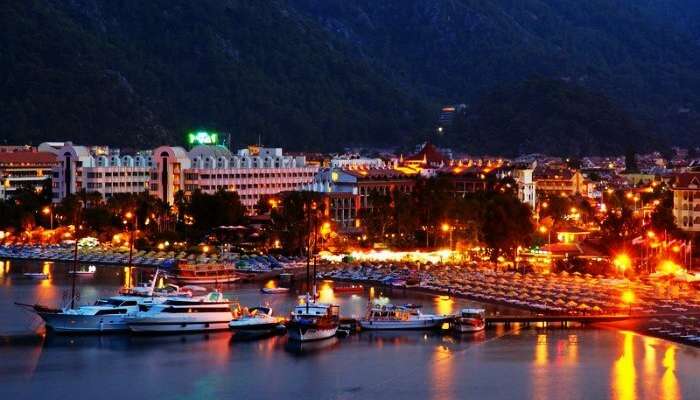 The Mediterranean resort town of Marmaris lies along the Turkish Riviera and is famous for it's buzzing nightlife on Bar Street, pine-forested mountains and clear waters. This is one of the best places in Turkey for honeymoon.
Why? Fancy a fun-filled honeymoon on a beach? Plan your romantic escapade at Marmaris for its crazy nightlife by the beach.
Best Time To Visit: April to June or September to October
Best Experiences:
Visit one of the many sandy beaches on the coastline including the vibrant Icmeler beach with the backdrop of the Taurus Mountains.
Take a boat trip to Dalyan famous for its golden beach of Iztuzu, the sea turtles and the ancient city of Kaunos.
Visit the nearby Cleopatra Island for its huge beach and ancient theatre ruins.
Explore the beautiful Marmaris Castle and the museum inside it.
Explore the charming and picturesque village of Turunc known for its luscious forests and quiet azure sea.
7. Bodrum – The Amazing Ancient City
Fringed with a crystal clear stretch of the Aegean, the Bodrum Peninsula is a unique blend of impressive archaeological heritage along with spectacularly serene azure bays. It makes for a perfect beach holiday and is one of the best Turkey honeymoon places.
Why? Archeology meets romance
Best Time To Visit: June or September
Best Experiences:
Visit the magnificent St. Peter Castle & Underwater Archaeology Museum.
Head down to your local boat harbour to take a boat trip on the spectacular Bodrum Peninsula.
Explore the charming villages of Derekoy and Dagbelen for a local slice of Turkey.
Spend a sunny afternoon on the Gumbet beach and Yalikavak Beach.
Stroll down the Bodrum marina and dance at the Halikarnas Night Club, an open air nightclub designed like an amphitheater.
Swim in the healing springs of Kara Ada, one of the serenest honeymoon destinations in Turkey.
8. Cappadocia – The Land Of Beautiful Horses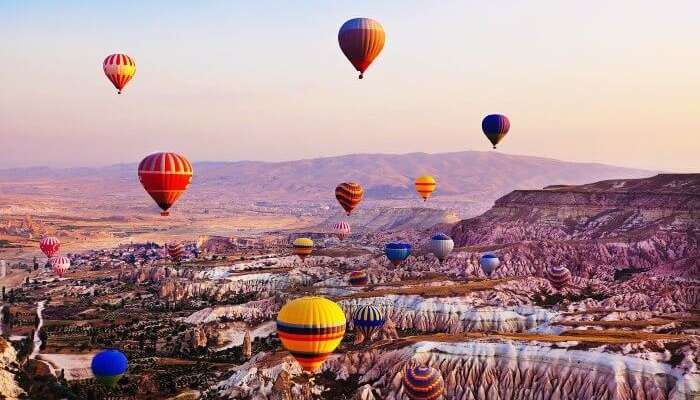 Cappadocia is one of the most spectacular Turkey honeymoon destinations because of it's impressive valleys and unique rock formations. This along with the wonderful towns around it make it a perfect honeymoon destination.
Why? Love is in the air
Best Time To Visit: April to June or September to November
Best Experiences:
Go for a hot air balloon ride and see the breathtaking view of Cappadocia's formations from the sky.
Stay in a Cave Hotel in the large rocky formations of Goreme.
Explore the underground cities of Derinkuyu and Kaymakli for a fascinating time.
See the spectacular Göreme Open-Air Museum for its cave churches and paintings.
Explore the town of Gorme known for it's charming airy Chimneys, restaurants, carpet and antique shops.
Hike up the three stunning valleys of Love, Rose and Pigeon.
9. Cesme – A Relaxed Resort Town
With a long seafront, hilltop castle, busy markets and the nearby Greek island, the laid-back resort town of Cesme has all the ingredients of a relaxed Turkish honeymoon.
Why? A laid back honeymoon by the beach and mesmerizing views
Best Time To Visit: May and October
Best Experiences:
Visit the historic Cesme Castle, especially during the music festival held during July.
Bask in the sun and sand in the idyllic beaches of Pirlanta Plaj, Altinkum Plaj and Buyuk Plaj.
Take a day long boat trip on the traditional Turkish wooden yachts called gülets to nearby Black Island, Donkey Island and Wind Bay.
Take a ferry to the Greek island of Chios and visit their famous medieval village of Pyrgi.
Spent a relaxed day at the Sifne hot thermal springs.
Visit the ancient city of Erythrai which gives a fantastic view of the bay and islands.
Take a dip in the turquoise warm waters of llica beach.
10. Hierapolis – The Natural-Spa City
An astonishing ancient Roman city established in the 2nd century B.C. It was built around natural hot springs. The city was destroyed by an earthquake in 60 A.D. The remains of the Greco-Roman period include baths, ruins from the Temple of Aphrodite, a monumental arch, a nymphaeum, a necropolis and a huge theater.
Why? To witness the wonders of nature and human – natural hot springs and remains of the Attalids dynasty.
Best Time To Visit: April or October
Best Honeymoon Experiences:
Take a tour in the remains remains of the ancient Roman city
Enjoy a soothing bath in the mesmerising white terrace-shaped natural hot spring
Visit the outstanding Hierapolis Museum
Explore Laodikeia, an ancient city situated on river Lycus.
Further Read: 15 Experiences Not To Miss On Your Euro Trip
With its unending coastline, Turkey is one the best places to have a sun soaked honeymoon. But don't restrict yourself to the sea and get a glimpse of the wonderful history and dip into the cultural marvel that is Turkey. Plan a trip to Turkey now and have a happy Honeymoon!