Hunza Valley Tour Best For Holiday, Vocations Discover and Explore The Mountains
Welcome to a world of breathtaking beauty and enchanting landscapes. If you've been dreaming of a getaway that combines natural wonders with cultural richness, look no further than the magnificent Hunza Valley. Nestled in the heart of the Karakoram mountain range in Pakistan, this hidden gem is a haven for adventure seekers and nature enthusiasts. At Pak Tours Services  we are thrilled to present our exclusive Hunza tour packages that will take you on a journey through the majestic beauty of Hunza Valley. From towering snow-capped peaks to crystal-clear lakes and vibrant meadows, every corner of this paradise is a sight to behold. Immerse yourself in the local traditions, sample the delicious cuisine, and witness the warm hospitality of the people of Hunza. Whether you're an avid hiker, a photography enthusiast, or simply seeking a tranquil escape, our meticulously crafted itineraries will ensure an unforgettable experience. Get ready to create memories that will last a lifetime as you explore the wonders of Hunza Valley with Pak Tours Services
Hunza Valley Tour is one the most popular tours of the world. It is located in the far Northern territory of Pakistan. It is widely believed by many people that James Hilton's famous novel "Lost Horizon" was inspired from Hunza Valley. The world acclaim the Hunza Valley as the "Land Of Legends" and it is famous worldwide for its culture, landscape, friendliness and hospitality. Travelers and adventurers from around the world make their visit to this point of Earth every year.
TOUR HIGHLIGHTED : From Karachi-Islamabad-Lahore- Naran -Gilgit-Hunza-Naltar-Nagar-Hoperglacier-Attaabad lakes-Rakaposhi-Khunjrab -Passu-Hussaini Bridge-chilas
Hunza Valley Tour Program
Day 1: Hunza Valley Tour – Islamabad to Naran
Drive to Hunza Stop at Naran or Chilas . The road has one of the most amazing landscapes and scenery. Tourist will witness lush green hills, fresh water streams, glacier, alpine trees and much more. River Kunhar will be flowing on the Banks of Naran. The marvelous view will make the road trip incredible. Over Night Hotel at Naran.
Day 2: Hunza Valley Tour – Naran to Hunza
This day  after beakfast  will begin their journey  to hunza early morning. The sunshine will make the aesthetics of the valley very vibrant. It is also a good time for photography on the way. The road passes through the Lulusar Lake, will take a short break at the lake. and take tea break at Babusar Pass (4173 m). They will experience the shift from lush greens hills to rugged dry mountains when they enter Chillas. The participants will now travel on Karakoram Highway which is considered the 8th wonder of the world by many of our guests. Tourist get to see Nanga Parbat 8,126 m from the Karakoram Highway. Participants will stop at Rakaposhi (7,788 m) view point before arriving at hotel in Hunza Valley. Night stay at hotel in Hunza.
Day 3: Hunza Valley Travel Guide
After Breakfast This day will have a lot of interactions with historians, musicians and story tellers as they will be visiting the historic Baltit Fort (700 years old) and Altit fort (900 years old). To have the best experience in Hunza Valley,  travel guide from Hunza Valley who can explain the culture, history and norms of the People of Hunza.then we will visit Duikar before the sunset where the participants will experience the sun set on the mighty Karakoram Mountains.Night stay at Hunza.
Day 4: Hunza Valley Tour – Khunjerab Pass (Pak-China Border)
This day will depart visit  for Pak-China Border (Khunjerab Pass – highest road border in the world) which is one the best road trips of Hunza valley tour. Participants will pass through the 1,000 years old civilization of Ganish. They will see the ancient rock carvings and sacred rocks. The tourist  will travel along Attabad lake after a half hour time from Ganish bridge. The Karakoram Highway in the Upper Hunza has a lot to offer.we will pass through Hussaini Glacier and Passu Village. On the way they will see Shispar Peak (7,611 m), Passu Peak (7,284 m) and the infamous Passu Cones/Catherdral (above 6,000 m). The participants will cross through Wildlife Conservation Area in Khyber and enter Khunjerab National Park in Deh. Upon arrival on the world's highest border Khunjerab Pass (4,733 m), guest get the opportunity to meet Chinese tourists coming from the other side of the border.Night Stay in Hunza.
Day 5: Hunza -Gilgit- Valley.
After Break fast On This Day we will be visit  Nagar Valley Hoper Glacier  and depart for Gilgit the Capital city Of Gilgit Baltistan region  Over Night Stay at   Hotel .or Take a flight for Islamabad as Option.
Day 6: Return to Naran Kaghan Valley
This day the we  will be travel back to Naran Kaghan Valley. . Participants will take quick stops on the way. Participants will reach Naran in the afternoon. Upon arrival to Naran, tranfer  in hotel for Night stay
Night Stay in Naran.
Day 7: Naran -Islamabad 
The participants will continue their journey towards Islamabad. Travelers will take quick stops on the way. It will take approximately 7-8 hours to reach Islamabad from Naran. Upon arrival in Islamabad,
Have a Question ?
Call us:  +92(0321)8484087- 333-0140484-300-9206611
Travel Guide Of Hunza Valley Pakistan
Experience the Majestic Beauty of Hunza Valley with Our Exclusive Tour Packages
Welcome to a world of breathtaking beauty and enchanting landscapes. If you've been dreaming of a getaway that combines natural wonders with cultural richness, look no further than the magnificent Hunza Valley. Nestled in the heart of the Karakoram mountain range in Pakistan, this hidden gem is a haven for adventure seekers and nature enthusiasts. At Pak Tour Services, we are thrilled to present our exclusive tour packages that will take you on a journey through the majestic beauty of Hunza Valley. From towering snow-capped peaks to crystal-clear lakes and vibrant meadows, every corner of this paradise is a sight to behold. Immerse yourself in the local traditions, sample the delicious cuisine, and witness the warm hospitality of the people of Hunza. Whether you're an avid hiker, a photography enthusiast, or simply seeking a tranquil escape, our meticulously crafted itineraries will ensure an unforgettable experience. Get ready to create memories that will last a lifetime as you explore the wonders of Hunza Valley with Pak Tours Services .
Why Hunza Valley is a Must-Visit Destination
Hunza Valley is a destination that truly captivates all who visit. Its awe-inspiring beauty and unique cultural heritage make it a must-see for travelers from around the world. Surrounded by some of the highest peaks in the world, including Rakaposhi and Ultar Sar, the valley offers breathtaking views at every turn. The clear blue waters of Attabad Lake and Borith Lake add to the picturesque charm of the region. The valley is also home to ancient forts, such as Baltit Fort and Altit Fort, which provide a glimpse into the rich history of this land. Whether you're exploring the terraced fields of Karimabad or hiking through the scenic trails, Hunza Valley will leave you in awe of its majestic beauty.br/>
Best Time to Visit Hunza Valley
Hunza Valley is a year-round destination, but the best time to visit depends on your preferences and the experiences you wish to have. Spring (April to June) is the perfect time to witness the valley come alive with vibrant blossoms and lush greenery. The weather is pleasant, making it ideal for outdoor activities and hiking. Summer (June to August) brings warmer temperatures, making it a great time for exploring the higher altitudes and enjoying the clear skies. Autumn (September to November) is when the valley is bathed in hues of gold and orange as the leaves change, creating a mesmerizing landscape. Winter (December to February) offers a completely different experience, with snow-covered peaks and frozen lakes. It's the perfect time for skiing and enjoying the cozy ambiance of the valley. Choose the time that suits you best and embark on a journey to discover the wonders of Hunza Valley.br/>
Top Attractions in Hunza Valley
Hunza Valley is brimming with captivating attractions that will leave you spellbound. At the top of the list is the iconic Baltit Fort, a UNESCO World Heritage Site that offers panoramic views of the valley and a fascinating glimpse into the region's history. Altit Fort, with its intricate woodwork and stunning architecture, is another must-visit. The terraced fields of Karimabad are a sight to behold, especially during the cherry blossom season in spring. The mesmerizing beauty of Attabad Lake, formed as a result of a massive landslide, is truly a marvel of nature. A visit to the ancient rock carvings of Ganish Village will transport you back in time. And let's not forget the stunning views of Rakaposhi and Ultar Sar, which can be enjoyed from various viewpoints throughout the valley. With so much to see and explore, Hunza Valley promises an enriching and unforgettable experience.For More Details Please see places to Visit hunza Valley 
Exploring the Culture and Traditions of Hunza Valley
Hunza Valley is not just a place of natural beauty; it is also a treasure trove of culture and traditions. The people of Hunza are known for their warm hospitality and their deep-rooted traditions. Experience the local way of life by visiting the local markets, where you can find traditional handicrafts, colorful fabrics, and delicious local produce. Attend a traditional dance performance and immerse yourself in the lively music and vibrant costumes. Don't miss the opportunity to try the local cuisine, which includes delicious dishes like Hunza soup, chapshuro, and apricot pie. Engage with the locals and learn about their customs and rituals. The cultural richness of Hunza Valley will leave you with a deep appreciation for the heritage of this remarkable place.br/>
Exclusive Tour Packages for Hunza Valley
At Pak Tours Services, we understand that every traveler is unique, which is why we offer a range of exclusive tour packages tailored to suit your preferences. Whether you're looking for a short weekend getaway or a comprehensive exploration of the valley, our Hunza Tour packages are designed to provide an unforgettable experience. Our itineraries include guided tours to the top attractions, comfortable accommodation options, and transportation services to ensure a hassle-free journey. We also offer customizable packages, allowing you to create your own adventure in Hunza Valley. With our expertise and attention to detail, you can rest assured that your trip will be nothing short of extraordinary.br/>
Accommodation Options in Hunza Valley
When it comes to accommodation in Hunza Valley, you'll be spoilt for choice. From luxury resorts to cozy guesthouses, there are options to suit every budget and preference. The valley is dotted with hotels that offer stunning views of the surrounding mountains and lakes. You can choose to stay in Karimabad, the main town of Hunza Valley, or opt for a more secluded spot closer to nature. Many accommodations also offer traditional Hunza-style rooms, allowing you to immerse yourself in the local culture. Whichever option you choose, you can expect warm hospitality and a comfortable stay amidst the breathtaking beauty of Hunza Valley.for Room Booking Please Visit Hotelbooking.pk
Transportation Options in Hunza Valley
Getting to and around Hunza Valley is made easy with various transportation options available. If you prefer convenience and comfort, you can hire a private car or book a tour package that includes transportation services. Public transport, such as local buses and vans, is also available for those who prefer a more immersive experience. Within the valley, you can explore on foot or rent a bicycle to enjoy the scenic trails at your own pace. The well-connected road network ensures that you can easily reach the top attractions and explore the hidden gems of Hunza Valley without any hassle.br/>
Tips for a Memorable Trip to Hunza Valley
To make the most of your trip to Hunza Valley, here are a few tips to keep in mind:
1. Pack appropriate clothing for the season you're visiting, including warm layers for winter.
2. Don't forget your camera to capture the stunning landscapes and cultural experiences.
3. Respect the local customs and traditions and dress modestly when visiting religious sites.
4. Stay hydrated and carry snacks, especially if you plan on hiking or exploring for long hours.
5. Take some time to interact with the locals and learn about their way of life.
6. Plan your itinerary in advance to make the most of your time in the valley.
7. Be prepared for occasional power outages and limited internet connectivity in certain areas.
With these tips in mind, you're all set for an unforgettable journey through the wonders of Hunza Valley.br/>
Conclusion: Book Your Exclusive Tour Package to Hunza Valley Today!
Hunza Valley is a destination that will leave you awe-inspired and rejuvenated. Its majestic beauty, rich cultural heritage, and warm hospitality make it a must-visit for any traveler seeking a unique and unforgettable experience. At Pak Tour Services, we are committed to making your trip to Hunza Valley truly special. Choose from our exclusive tour packages, designed to cater to your individual preferences, and embark on a journey that will create memories to last a lifetime. Immerse yourself in the breathtaking landscapes, explore the fascinating culture, and connect with the welcoming people of Hunza Valley. Book your exclusive tour package to Hunza Valley today and let us take care of every detail, ensuring a seamless and extraordinary adventure in this paradise on earth.
How To Reach Hunza Valley:
The easiest way to reach Hunza Valley is by taking a flight to Islamabad or Gilgit and then traveling by road. There are several buses and taxis available from Gilgit to Hunza Valley, which is approximately a 2-3 hour drive.or By Road From Islamabad to Via Naran or Chilas
People Of Hunza Valley:
The people of Hunza Valley are known for their hospitality and friendly nature. The majority of the population are Ismaili Muslims, and they speak the Wakhi and Burushaski languages.
Languages Of Hunza Valley:
The Wakhi and Burushaski languages are the most commonly spoken languages in Hunza Valley. However, Urdu and English are also widely understood and spoken.
History Of Hunza Valley:
Hunza Valley has a rich history that dates back to the 1st century AD. The valley was an important stop on the ancient Silk Road, and it was ruled by several different kingdoms throughout history.
Weather Of Hunza Valley:
The weather in Hunza Valley is generally mild and pleasant, with temperatures ranging from 20-25°C during the day and 5-10°C at night. However, during the winter months, the temperature can drop below freezing, and
Book Your Hotel in Hunza at Best Price
Hunza Valley Travel Guide
Hunza Valley Overview
Best Time To Visit Hunza Valley
Places To Visit In Hunza Valley
How To Reach Hunza Valley
Transport In Hunza Valley
People Of  Hunza Valley
Languages Of  Hunza Valley
History Of  Hunza Valley
Culture Of  Hunza Valley
Weather Of Hunza Valley
Hunza Tour Packages By Theme
Hunza  Exotic Tour Package
Hunza  Luxury  Tour Package
Hunza Family Tour Package
Hunza Honeymoon Package
Hunza Group Tour Package
Hunza By Air Tour Package
Hunza Valley Tour Packages from Top Cities
Hunza Tour Packages from Karachi
Hunza Tour Packages  from Lahore
Hunza Tour Packages from Islamabad
Hunza Valley Hotel
Hunza Valley Tour
Hunza Valley Forts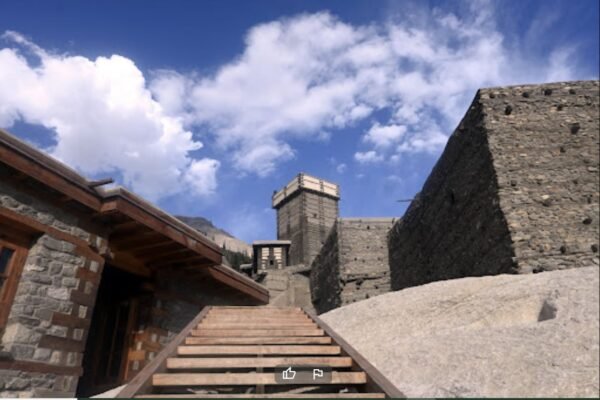 Frequently Asked Question (Hunza Valley )
Q:How many days are enough for Hunza?
A: Minimum  5 Days are enough to Explore this Beautiful  Hunza Valley
Q:Which months are best to visit Hunza?
A:Summer Season is best time to visit hunza valley but also Spring and Autumn season  very attractive
Q:Which is best route for Hunza?
A:ByAir from  Islamabad to Gilgit or  By Road Via Naran in Summer and in winter via Besham Valley
Q:Which place is better Skardu or Hunza?
A: Both Valleys are Most Beautiful Part Of Northern pakistan and many tourist attractions
Q:Is Hunza Valley expensive?
A: No, In Hunza Everything Is Available on Very reasonable rates.like Food,Hotels-Taxi etc.
Q:What is the maximum age of Hunza people?
A:  Peoples of Hunza Valley average ages Between 80 -90 years
Q:In which month snow falls in Hunza?
A: Snowfalls Started  in Hunza Valley December to February
Q:Which month is cherry blossom in Hunza?
A: April and May are the  Best Month  to explore the cherry Blossom Season
Q:How much does it cost to go to Hunza?
A: Averge Cost Starting  from 27000 Rs  in Group and Private Family Tour 95000
Q:What is favorite part of Hunza Valley?
A:Karim abad-Attabad lakes Passu-Sost -Khunjrabpass-Eagle Nest Best Part to Visit
Q:How many hours from Lahore to Hunza?
A: From Lahor Islamabad Hunza Valley 16 to 18 Hours. Recommended stop for night