Fairy Meadows Adventure Trek
Nanga Parbat Base Camp Trek – Fairy Meadows Trek
Fairy Meadows is famous as it faces the 9th highest peak in the world. Gigantic Nanga-Parbat is near all its extravagance & lust.  Located at the core of magnificent north Pakistan, falls in the district Diamer of Gilgit Baltistan. The richly green plateau is one of the best places for camping in Pakistan.Fairy Meadows Pakistan is named by an Australian climber "Hermann Buhl" in 1953, because of its bewitching beauty. He was the first to mount the Nanga Parbat:
TOUR HIGHLIGHTED :From  Karachi -Islamabad-Lahore Shogarn-Kaghan-Naran-Chilas-Babusar Top-Raikot Bridge- Jeep- Trek FairyMeadows-Nanga parbat View Point
Fairy Meadows ,Nanga Parbat Adventure Tour
Day 1: Islamabad – Besham – Chilas (470km/11-12hrs)
We depart early and drive to Besham  After a short break at Besham, we resume our drive on Karakoram Highway, along River Indus. We will make photo stops at Shatial Rocks with ancient graffiti's on it. We reach Chilas  or Naran and transfer to hotel for night stay.
Day 2: Naran-chilas – Raikot Bridge – Fairy Meadows (70kms/4hrs + 3hrs Hike)
After breakfast at hotel, we will drive towards our destination, Fairy Meadows, which is a great but soft adventure. Fairy Meadows is located at the base camp of Nanga Parbat – 8125m, the lone giant of Himalayas and the second highest in Pakistan after K-2. We drive to Raikot Bridge on KKH and onwards to Jail (Tato), by jeeps at foot of Fairy meadows. From the end of jeep track, it is a hike of about three hours to the legendary place Fairy meadows, which is truly named with unsurpassed views of Nanga Parbat.
Day 3: Fairy Meadows – Excursion base camp (10hrs Hike)
A soft trek of two to three hours, walking through the dense pine forest and later through birch trees and along shallow streams, takes us to Beyal, a summer settlement of shepherds with stunning views of Nanga Parbat – 8125m.Optional hike to Nanga Parbat base camp crossing tails of glaciers with well identified track. At base camp, a monument had been erected in the memory of climbers died on the mountain. After a packed cold picnic lunch at base camp, we will return to our campsite at Fairy Meadows and enjoy a unique and memorable night at the foot of Nanga Parbat and in the land of fairies with bonfire
Day 4: Fairy Meadows – Raikot Bridge – Chilas/Naran (2hrs Hike + 280kms/10hrs)
In the morning after breakfast we checkout and move back down the mountain to Tato village where our jeeps await to take us to Raikot Bridge. Upon reaching the bridge, we transfer to our vans and travel down along the KKH. We will spend the night in either Chilas or at Besham.
Day 5: Chilas/Naran -Islamabad.
Check out Hotel and drive to Islamabad via shogran -balkot over night at home islamaabad or lahore
Have a Question ?
Call us:  +92(0321)84-84-087-(0300)-9206611-(333)-01-40-484
Explore our latest accommodations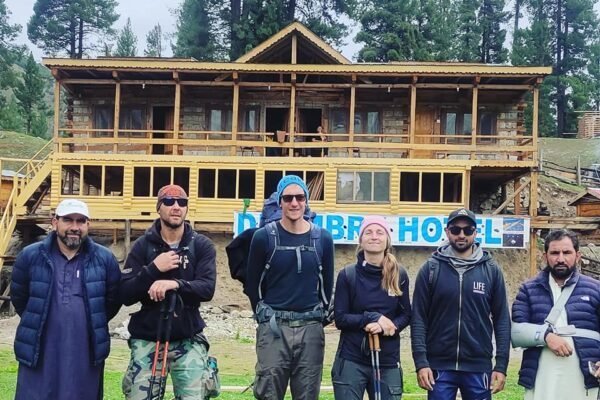 Fairy Meadows, Tattu, Gilgit-Baltistan 14100